We are a military family with 2 returning Iraq veterans; OIF, March 2003 - August 2004, He deployed to Iraq in his second stop-loss extended 15 month deployment; Dec 2007 - April 2008. Now he has standing orders for deployment to Afghanistan. I believe it is a sacrifice too large to ask of him, his wife and their three children.


'Let's go home son' is how we captioned the photo
Monday, March 14, 2005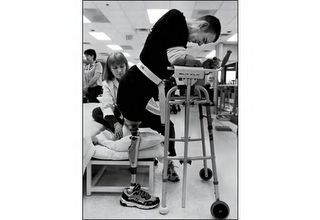 Joey Bozik
,
a triple amputee, tests a new prosthesis as part of his rehabilitation

Posted by

Lietta Ruger
at 10:03 AM


President George W. Bush's statement in March 2006 after 3 yrs of war "a future President will have to resolve war in Iraq"

---