We are a military family with 2 returning Iraq veterans; OIF, March 2003 - August 2004, He deployed to Iraq in his second stop-loss extended 15 month deployment; Dec 2007 - April 2008. Now he has standing orders for deployment to Afghanistan. I believe it is a sacrifice too large to ask of him, his wife and their three children.


'Let's go home son' is how we captioned the photo
Monday, August 22, 2005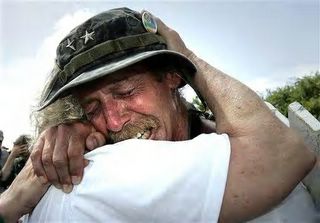 Bill Mitchell, GSFP, lost his son Mike in Iraq, shares a greiving moment with another mother who lost her son.

Posted by

Lietta Ruger
at 7:21 PM


President George W. Bush's statement in March 2006 after 3 yrs of war "a future President will have to resolve war in Iraq"

---